Rowe Logistics, Inc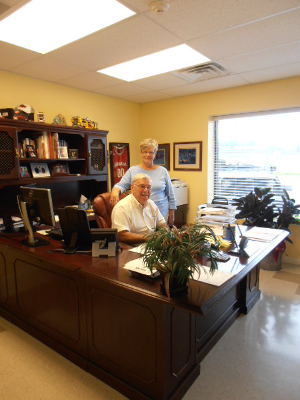 Rowe Logistics, Inc (Brokerage Company) has been providing high quality and dependable transportation for everyone since 2005. We specialize in nationwide auto transportation, with access to many trucks throughout the United States.

Our company opened in July of 2005 by owners Marvin and Kay Rowe. We started out in the Kitchen of Marvin and Kay's home, with only Marvin and one other employee working off of a card table, with a very small Customer and Carrier base. After a few years, Rowe Logistics, Inc moved from the card table to an office building in Mt. Sterling, KY and added a few more employees. We noticed that our Customer and Carrier base was growing all while providing them with quality and dependable transportation. As many years have passed, Rowe Logistics, Inc has worked with numerous local and nationwide Customer accounts and Carriers, that we are continously building. We have moved into our own office, and the staff has and continues to grow tremendously.
Our staff is well trained and experienced in the automotive transportation industry. Some of them have over 35 years of experience in the business. Rowe Logistics, Inc staff is always ready to help you with your transportation needs. We have two main responsibilities; first to our Customers, in fulfilling their transportation needs, and second to our Carriers, in dispatching them to their transportation assignmets. All of our Carriers are well checked for dependability, reliability and the most up-to-date records such as Federal DOT Regulations, Safer Web, Insurance and an agreement between the Carrier and Rowe Logistics, Inc., before they can be dispatched to fulfill our Customer's transportation needs.

We strive to continue growing the Customer and Carrier base here at Rowe Logistics, Inc. The staff is available 7 days a week for all of your transportation needs! We believe in saying what we do and doing what we say! Rowe Logistics, Inc owners and staff look forward to working with you!
We specialize in the following:
✔ Single or truck load transportation
✔ Inoperable vehicles
✔ Regular vehicle transportation
✔ Auto Auction moves
✔ Dealer trade moves
✔ Individual Transportation
✔ Access many trucks (3 or 4 car wedges, 7 or 10 car haulers, enclosed trailers, rollbacks)